https://youtu.be/D8DSfptpy-c
In the long run, a frugal lifestyle pays off in financial freedom. That's the bottom line, and you should never live beyond your means. But don't shortchange yourself. Spending money on some luxuries — defined as being not absolutely necessary — can pay off big in a sense of well-being, comfort, contentment and ease.
At Money Talks News, we want you to get the biggest bang for every buck you spend. With that in mind, we put together a list of small things that can make life better — and make you feel like you're living large.
Of course everyone will have a different set of little luxuries that make a big difference. Consider our list of 12 worthwhile expenditures as food for thought: What little things make a big difference to your quality of life?
1. Lighting dimmers
I'm a huge fan of lighting options, and a dimmer switch is number one on my list. Sometimes I just want to relax in soft light — like when I'm listening to music and visiting with friends. It's also nice to have a dimmer switch in the bathroom to provide just enough light for the midnight trip to the loo without being blinded.
Dimmer switches start at about $10. I'm not skilled with wiring, so have mine installed by my trusted contractor. If you are handy, though, Home Depot offers step-by-step installation instructions.
2. Outdoor lighting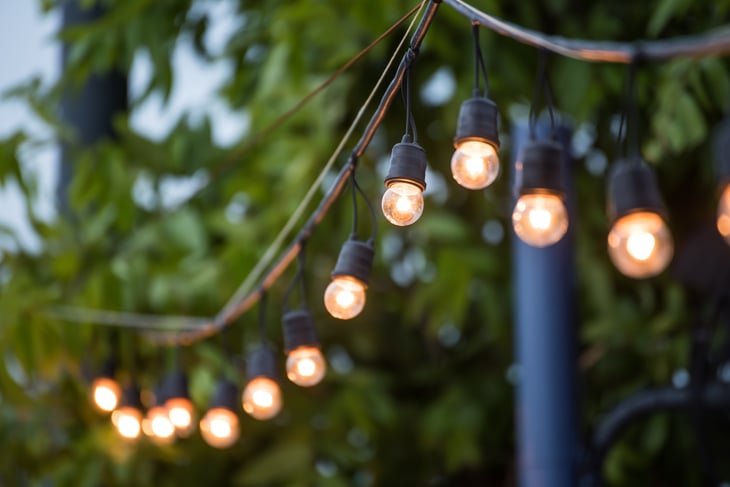 It's amazing how a simple string of outdoor lights can add an air of festivity and warmth to a yard, porch or garden. You can find an array — from simple white sparklers to more elaborate lanterns — at many retailers including Target, Walmart or Amazon. I use them to adorn the railings of my deck. My mother-in-law bought a decorative gate for a few bucks at a garage sale, wove a string of decorative lights through the ironwork and leaned it against the wall of the house. It offers the perfect amount of gentle light on her patio. Just remember to make sure lights are labeled for outdoor use if you are using them outside.
3. A hammock
When I see a hammock, I remember being a kid, daydreaming or reading in one my parents had in their backyard. The idea of the hammock hasn't changed, but they now come in a vast array of materials, styles and price points, starting as low as $20. Many retailers have them, including Walmart, World Market and Amazon (where one small retailer recently sold 24,000 of them in one day!). Shut off the TV and tune into yourself while swinging in a hammock. (Even if you don't buy a hammock, shut off the TV and enjoy life without it for a while. That's free.)
4. The right kitchen tools
Many of us grew up thinking food equals joy. It goes beyond eating. Cooking fills the house with aromas and creates ambiance. Best example: the smell of fresh-baked bread. That's why a bread machine — easily bought second-hand on Craigslist or for less than $50 in a store — is on my list of expenses that deliver big in terms of quality of life. If you enjoy cooking, or would like to enjoy it more, consider spending on high-quality kitchen tools — high-quality knives perhaps or a smoothie maker — that will make it more fun to make and eat your favorite meals.
5. A luxurious robe
Snuggling into a fluffy robe in winter or cooling down in an open-weave kimono or robe in the summer is instantly relaxing. I just bought a high-quality brand-name robe as a splurge. Best of all, it was on sale for 75 percent off at ModCloth. You can find the high-quality robe that best suits you at various retailers including Overstock.com, Hammacher Schlemmer, to Neiman Marcus and beyond.
6. The right storage solution
OK, this might sound silly, but don't you hate to misplace your kitchen sponge? I am one of those people who worries about keeping sponges dry and sanitary. Solution: a sponge holder. I had a special drawer that holds my sponge built into the area below my sink. It allows the sponge to dry while keeping it handy and out of the way. You can easily get the same result with a stoneware sponge holder you buy at a craft sale or a plastic holder from a retail store for just a few dollars.
You might not share my particular concern about sponges, but I'll bet you have a little thing that you find vexing on a regular basis. Think about it, and invest in that simple solution.
7. A change purse
I live in an urban area and often park at meters. The problem is that I carry just a wallet for bills and my phone, so never have coins. Now that I've hidden a change purse filled with quarters in my car, I never waste time trying to find a place that will change bills. And I don't have to use my credit or debit card for such a small transaction. Buying a small change purse at the Dollar Tree to hold coins has brought me immeasurable happiness because it saves me time and aggravation. Guess what? You don't even need to spend money for a change purse. Take a small box, like the ones used for jewelry, and use that as your "change purse." It's another one of those little fixes — for little cost or free — that makes everyday life better.
8. Good quality professionals
I have a neighbor who saves money by hiring bargain-rate contractors and service professionals. That's resulted in her basement flooding with water and smelling like mold and many of her electrical outlets not working. As we've mentioned before, it's usually a good investment to spend a little extra on professional services. You save on the stress and time it takes to correct poor work. It can also save you from real hazards such as fires, flooding, safety or legal issues.
9. Ear protection
When I was a poor college student, I had neighbors who kept me up all night with loud music and parties. Earplugs were the tiny investment that allowed me to rest. I still keep earplugs around. I don't need them for a good night's sleep, but I do use them to save my hearing at concerts, movie theaters and other events where the noise is over the top. They are such a small item to buy and carry in a pocket or stow in a bedside table — and so worth it. If you are a frequent traveler, or find you're often trying to work in noisy places, you might take this investment up a notch and buy noise-canceling headphones — remarkable for silencing the din of the crowd.
10. A good night's sleep
For several years, I slept on a sofa bed. The springs hit my back, the mattress was reminiscent of a cot, and it was just plain uncomfortable. I didn't have a choice back then, but as soon as I could I upgraded my mattress. I highly recommend it. We've told you before that you don't have to blow your budget for a mattress. But don't skimp, either. Finding the best mattress you can afford will impact your health, energy level and overall outlook on life. If you can't invest in a new mattress right away, consider a down or foam pillow top to improve on the bed you have.
11. Deal with the fur, skip the struggle
I don't usually rave about pet brushes, but my vet suggested The Furminator and it improved my life. I have two longhaired cats, and one of them just hates to be brushed. If I don't brush him, though, there's hair everywhere in my house and he's uncomfortably full of hairballs — and he resembles a dust mop. The Furminator, which is also advertised for dogs, makes my cats happy — which makes me happy and my home hair-free. Invest in a decent pet brush and stop the struggle and clean up.
12. An insulated food bag
Carry an insulated food bag when you shop. I bought one and leave it in my car. Now when I grocery shop, I can pop frozen goods into the bag and not have to worry about them if I make a side trip on the way home. Yes, you could use a cooler instead, but the insulated bag takes less space so it's easy to carry. It will also keeps warm food warm. It worked so well, I bought a second one for my husband's car.
What small expenses bring you the best value? Share with us in comments below or on our Facebook page.