Is your Pinterest craft board bursting at the seams?
It's time to put those pins to good use and get crafty. Even better, make some money by selling your creations online. After all, the holiday season is right around the corner, and handmade gifts seem to be all the rage nowadays.
If you're not sure where to start, let us help you. Here are seven steps to getting an online crafting business off the ground.
Step 1: Find the right craft
Step one is undoubtedly the most important. Not everything that is handmade lends itself well to online sales. Ideally, your craft should fit the following criteria:
Be something you can make well.
Be something that can be inexpensively shipped.
Have some distinguishing feature.
You don't want to be shipping out items that look like a sixth-grade art student made them. And a hefty shipping charge will likely deter many buyers. As for the final point, remember it's a crowded marketplace out there. You need to find something to set yourself apart, at least initially, whether by coming up with a unique twist on an old product, devising innovative packaging or with an interesting back story.
Step 2: Decide whether to do it yourself or outsource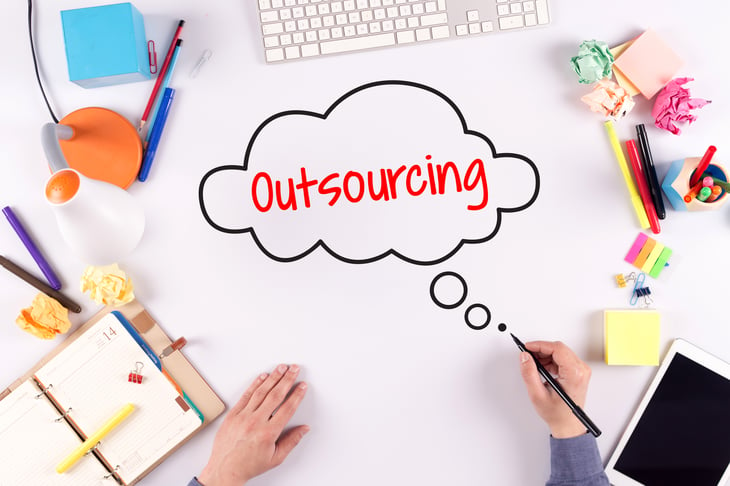 I'll let you in on a secret. Top-earning Etsy sellers don't necessarily have to make their own stuff.
Take the case of Alicia Shaffer. You can read more about her story in this 2015 article from Business Insider, but it boils down to this: She bought many products wholesale and had a team of workers add embellishments so the products met Etsy's definition of a handmade good. Using this system, she was able to sell $80,000 to $90,000 worth of goods each month, far more than she could if she were working solo and creating everything from scratch. Since then, Shaffer has taken her business off Etsy but continues to sell her items on her website.
While her system is not for everyone, don't dismiss the possibility. There is only so much you can do by yourself. If you want to turn an online craft store into big business, consider whether you might want to use Alibaba or another wholesale source for items that you can build from.
A word of advice though: Do a trial run to make sure there is a market for your product before investing a lot in wholesale goods.
Step 3: Select the right selling venue
Now that you know what you're going to sell, you need to figure out where to sell it.
Etsy is hands-down the biggest online marketplace for handmade and crafty goods. However, competition from other crafters on the site is immense. Another option would be to take your business to one of the following sites where there is less competition but also less traffic:
A third option would be to create your own website, a proposition that isn't nearly as difficult as it sounds. There are a number of places on the web, such as Weebly and Squarespace, that offer dummy-proof web design and shopping cart options. However, again, the downside is lower traffic and also perhaps a selling venue that looks less polished.
Step 4: Set up a production and shipping system
Now we get into the nitty-gritty of the process. How are you going to make your items and ship them?
You don't want to be reinventing the wheel every time an order comes in. Instead, have systems in place for how you receive and process orders. Your system will depend quite a bit on your item and your personality, but here are some questions to ask yourself:
Will items be custom-made for each customer, or will I keep an inventory?
Should I schedule a certain time of each day for making crafts?
Do I have any marketing materials such as brochures or sales flyers to include with the shipment?
Will I ship every day or only certain days?
Can I print shipping labels from home?
Where will I store my craft and shipping supplies?
Step 5: Learn business basics
There is an art to selling items online. You need to set up your listings in a way that will make them easy for customers to find. You need to have the right lighting and photographs to make your creations shine. And if you really want to stand out, you should learn the ins and outs of sites like Pinterest where people will, hopefully, share and rave about your products.
Books could be (and have been) written on everything you need to know about maximizing online sales. I recommend you don't worry about mastering everything at the start. Trying for perfection can leave you feeling paralyzed. Instead begin crafting and listing your items without worrying about the "right" way to do it.
However, promise yourself that each week you will learn something new about how to improve your business.
Step 6: Promote your wares
This isn't "Field of Dreams." Just because you build it, er, craft it, that doesn't mean customers will come. You'll need to do some self promotion if you want people to find your products. Don't expect to simply slap up a few listings or a website and watch the sales roll in.
Again, books have been written on the subject, and I suggest you head to your favorite search engine and look up "promote handmade products" or a similar phrase to find all sorts of good advice.
Step 7: Reap the rewards … but don't forget taxes
Now we come to the fun part – success!
Once the sales start trickling in, so does the money. That means extra cash for you! It also means extra cash for Uncle Sam.
Yes, online sales count as taxable income. It's a bummer, but it's not all bad. Since you're running an at-home business, you may also find you're now eligible for a home office deduction or other tax write-offs. The tax code is complex (and may be changing soon), so your best bet is to check in with a tax professional so you can have riveting discussions on topics such as what constitutes a hobby versus a business, how the IRS defines a home office and what documentation you'll need for specific credits and deductions.
Are you up for the challenge? Leave a comment below or head to our Facebook page to tell us if you'll be getting your craft on this year.