Getting old isn't all bad. For one thing, once you hit a certain age, everyone seems to want to give you a senior discount.
Here's a look at 50 of the ways you can save, thanks to your age.
Budget Rent a Car
Once you turn 50, you can join AARP for $16 a year and get access to all sorts of discounts. One of them is 30 percent off base rates from Budget Rent a Car. Plus, you may even get a free upgrade.
Avis Rent a Car
Avis Rent a Car also has teamed up with AARP. It gives members $10 to $25 off its base rates.
Hertz car rentals
You don't have to be an AARP member to get a discount from Hertz. They provide savings of up to 20 percent off for everyone age 50 and older.
Choice Hotels
Once you get where you're going, you can save 10 percent on your room if you book in advance at Choice Hotels and are 60 or older, or an AARP member.
Marriott
At Marriott hotels, the discount is 15 percent or more if you're age 62 or older.
IHG
When you book at IHG properties, you can access special rates if you are at least 62 years old or the member of a retired persons organization. This hotel group includes an array of familiar brands like Holiday Inn Express and Intercontinental as well as luxury resorts, boutique properties and more.
Motel 6
At Motel 6, seniors age 60 or older get a 10 percent discount.
Amtrak
If you'd rather see the world by rail, try Amtrak. The company gives a 10 percent discount on many fares to travelers who are age 65 and older.
Greyhound
Bus is another travel option, and Greyhound offers a 5 percent discount to older riders. You'll need to be at least 62 and ask for the reduced rate in order to get it.
Peter Pan Bus Lines
If you live in the Northeast, you can use the Peter Pan Bus Lines to get around — with a 15 percent discount off full fares if you are age 62 or older.
Kohl's
Looking to save on clothes, shoes or household furnishings? Shop at Kohl's on Wednesdays to get a 15 percent discount. That is, provided you are age 60 or older and have identification to prove it.
Bealls
The Florida-based department store Bealls makes every Tuesday a senior discount day, offering 15 percent off in-store to those who are "50 years or better."
Walgreens
At Walgreens, special Seniors Days offer discounts of 20 percent on many items as well as opportunities to earn bonus points for the store's Balance Rewards loyalty program. To be eligible for the deals, you'll need to sign up for a free Balance Rewards card and be at least 55 years old or an AARP member.
Rite Aid
Seniors who are 65 or older can sign up for Rite Aid's wellness65+ program. It provides a 20 percent discount on regular price merchandise on the first Wednesday of the month plus other specials and perks.
Michaels
Every day is senior day at the craft store Michaels. Present a valid ID proving you're at least 55 years old, and you'll get 10 percent off your purchase. And that's on top of any sales discounts.
Pep Boys
Pep Boys, which provide auto repairs and parts, offers a 10 percent discount to those who are at least 55 years old and can prove it with a valid ID.
Harris Teeter
For savings on your groceries, Harris Teeter offers a 5 percent discount every Thursday to those age 60 and older. You'll need a valid I.D. card, the grocer's loyalty savings card, and you'll have to let the cashier know you're eligible as well.
Fred Meyer
Fred Meyer has a deal for those age 55 and older. Its senior discount gives 10 percent off private brand groceries, apparel, home items and more.
Schwan's
If you'd like to try Schwan's home delivery for frozen meals or treats, you can get $20 off your first $50 purchase if you're an AARP member.
1-800-FLOWERS.com
Your AARP membership will also get you discounts from 1-800-FLOWERS.com — 20 percent off or $20 off for arrangements that cost $79.99 and up.
T-Mobile
The wireless carrier T-Mobile has a special deal for those age 55 or older. The Unlimited 55+ plan gives seniors two lines with unlimited text and data in more than 140 countries for only $70 a month.
Sprint
The Sprint Unlimited 55+ plan also provides two lines for $70 a month. It offers unlimited talk, text and data as well as global roaming in 185 destinations.
Consumer Cellular
Consumer Cellular is another company offering discounted phone service to older Americans. AARP members get 5 percent off monthly charges and 30 percent off selected accessories.
Verizon
While Verizon used to offer a Nationwide 65 Plus Plan for seniors, that is no longer available for new customers. However, if you live in Florida, you can still get a discount. The company offers a Go Unlimited 55+ Plan to residents in that state. It saves $15 off one line or $50 off two lines.
Bonefish Grill
AARP members get 10 percent off their bill at Bonefish Grill every day.
Carrabba's Italian Grill
Carrabba's Italian Grill is another restaurant that gives a 10 percent discount to AARP members.
Chili's
Like many national chains, Chili's restaurants are franchises. That means there is no standard senior discount, and your mileage may vary when it comes to saving money because of your age. However, Chili's owners who do offer senior discounts seem to typically provide 10 percent off to those age 55 and older.
Arby's
At Arby's, you may get a 10 percent senior discount if you ask. Availability varies by location.
McDonald's
Although not available in all locations, McDonald's has long been known for its special senior coffee rate. You just need to ask to get it.
IHOP
IHOP started as a breakfast place, but now offers a full menu of American fare. Restaurants in the chain typically have a special 55 Plus menu with smaller portions and lower prices. Most locations also offer a 10 percent discount and some offer half-price dinner once a week for customers 55 and older, according to SeniorDiscounts.com
Denny's
Denny's also has a special menu and pricing for guests age 55 and older. What's more, AARP members can get 15 percent off their bill.
Shoney's
Depending on where you live, you may be able to get a 10 percent discount at Shoney's. For instance, Shoney's of Knoxville gives that discount to members of its Golden Age Club who are age 60 and older.
El Pollo Loco
If you're craving Mexican, you can get 10 percent off your order at El Pollo Loco if you're age 60 or older. They cap the discount at $1, but hey, every little bit counts, right?
Tanger Outlets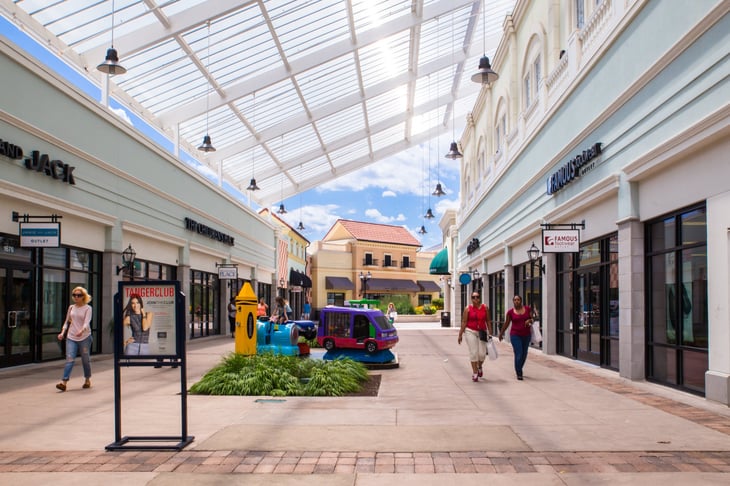 Head to Tanger Outlets with your AARP card, and you'll receive a coupon booklet that could be worth up to a thousand bucks. Stop by the Shopper Services desk to claim it.
The UPS Store
Lots of stores have partnered with AARP to offer senior discounts, and the UPS Store is one of them. Members get 15 percent off services such as printing and 5 percent off domestic and international shipping.
Great Clips
Many Great Clips locations have special pricing for seniors' haircuts. Plus, they may have Senior Days that offer even deeper discounts for older customers.
Carnival Cruises
If you're at least 55 years old, you get access to special rates from Carnival Cruises.
Norwegian Cruise Line
Seniors also get a discount on cruises through Norwegian Cruise Line, but you have to be an AARP member to get it. Members are eligible for 5 percent off sailings booked nine months in advance. The company offers additional savings from time to time as well, such as $100 off select cruises.
Southwest
Southwest Airline offers special fares for seniors age 65 and older. However, you won't find them online. Instead, you'll need to call the company or use a travel agent to book them.
United
According to United, special fares for travelers age 65 and older are available to select destinations, but those locations apparently aren't publicized. The airline's site urges seniors to ask for details when booking on united.com.
British Airways
AARP members who book travel on British Airways by Jan. 31, 2019, can get $65 off an economy ticket or $200 off a business class ticket.
Public transportation
Many public bus, subway and rail systems offer senior discounts. For example, Pennsylvania seniors 65 or older may be eligible for free transit travel, $1 regional rail fares and 50 percent off fares to New Jersey and Delaware. Meanwhile, in Delaware, seniors get 50 percent off taxi fares. Check with your local provider.
Utilities
In some states, utility providers offer discounted rates to seniors although there may be income restrictions attached. For example, Georgia companies offer discounts to lower-income seniors or waive monthly fees.
Goodwill
Not all Goodwill stores offer senior discounts; it depends on the region. However, many do. For example, every Tuesday is a Senior Savings Day at Goodwill Industries of north-central Wisconsin. Shoppers age 60 or older get 10 percent off their purchase.
National parks
The government offers seniors age 62 and older unlimited access to more than 2,000 federal recreation areas, including national parks, for the low price of only $20 a year. Or you can buy a lifetime pass for $80 to ensure you have years of access to our natural wonders.
AMC Theatres
If you're at least 60 years old, you can buy a Senior Discount ticket to the movies at AMC. Pricing varies by theater and showing.
Cinemark
Many Cinemark theaters have a Seniors Day when you can enjoy "the silver screen at a golden value."
Ticketmaster
AARP members get access to discounted rates and deals on concerts and events through Ticketmaster.
Museums
Many museums offer senior rates and discounted memberships. For example, the Museum of Science and Industry in Chicago gives seniors $20 off an Individual membership (normally $95) or Dual Level membership (normally $145).
Your favorite store
These senior discounts are just the tip of the iceberg. Plenty of other stores — large and small — are happy to provide perks to their more mature customers. Saving some money if often as simple as asking, "Do you offer a senior discount?"
Hey seniors: What discounts have you come across? Have you been taking advantage of any of the offers listed here? Share with us in comments below or on our Facebook page.