The cost of a meal at your favorite restaurant continues to climb, with no end in sight.
Many popular restaurant chains have either already hiked prices or plan to do so later in 2022.
These eateries largely blame the menu price increases on higher labor prices and increased costs due to the general wave of inflation surging through the economy.
Following are some chains that will charge you more in the coming weeks and months.
1. The Cheesecake Factory
Rising costs throughout the economy and supply chain woes have pushed The Cheesecake Factory to bump menu prices higher by 3.25%, MarketBeat reports.
Despite these cost challenges, The Cheesecake Factory anticipates opening up to 19 new restaurants this year.
2. Outback Steakhouse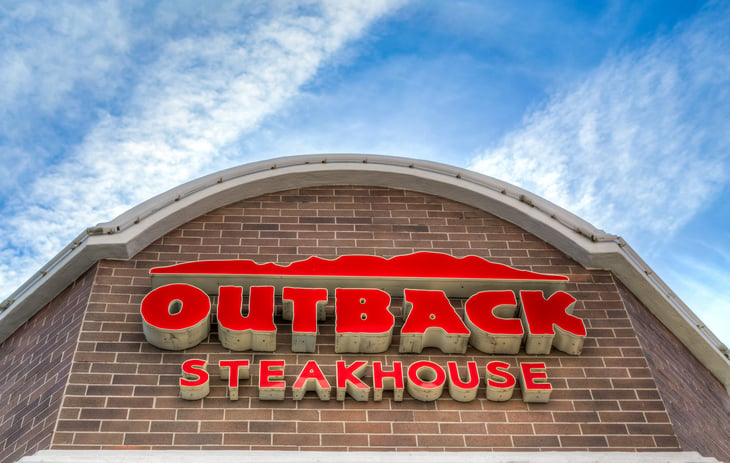 Bloomin' Brands, which owns Outback, raised prices by 3% last year. Now, it plans another hike, this time by 2%, according to the Tampa Bay Times.
The company says the increases are a response to the cost of goods and labor, both of which are higher than the company forecast last fall.
3. Noodles & Company
Prices at Noodles & Company are set to rise between 3% and 4% during the second quarter, according to a report from Nation's Restaurant News.
The chain also says it might raise prices again later in the year if inflation continues to cause its costs to rise.
4. Texas Roadhouse
If you want to eat at Texas Roadhouse before prices rise, you better hurry. Nation's Restaurant News says the chain will increase its menu prices by 3% in April.
The latest price hike comes after Texas Roadhouse bumped up prices by 4.2% last November.
5. Cracker Barrel
By the end of January, prices at Cracker Barrel had risen about 5.3%, according to Nation's Restaurant News.
The restaurant also raised prices in 2021, as we reported last year in "7 Major Restaurant Chains That Are Hiking Prices."
6. Chipotle
As we reported, Chipotle first hiked prices in the middle of 2021. Then, the famed Mexican grill also raised prices by 4% at the end of the year.
The upshot: Prices are now up 10% overall compared with last year, according to the Wall Street Journal.
7. Starbucks
America's favorite coffee shop says a combination of inflation and higher labor costs is pressuring earnings. As a result, Starbucks CEO Kevin Johnson acknowledged in early February that the company has raised prices twice in the past four months.
Starbucks also expects to raise prices several more times throughout the year.
8. McDonald's
The famous fast-food chain anticipates that the rate of cost increases for food, paper and other materials in the U.S. will roughly double this year, compared with 2021's rate.
That means those who love the Golden Arches now must dig deeper to feed their desires as the company raises prices to compensate, according to a Wall Street Journal report.
9. Domino's Pizza
Technically, Domino's Pizza isn't raising prices. But in reality, you are getting less for what you pay for when it comes to one menu item.
During a conference earlier this year, Domino's CEO Richard Allison said the pizza chain plans to reduce the count of wings and boneless chicken to eight pieces — down from 10 — in orders that are part of the $7.99 carryout deal.
Allison says higher costs for meat, cheese and some grains are behind the decision.
10. Darden Restaurants
The parent company of several popular chains — including Olive Garden, LongHorn Steakhouse, Yard House, Bahama Breeze and Seasons 52 — raised prices by 2% during the quarter that ended Nov. 28, 2021. And it plans to raise prices by 4% over the next two quarters.
The company has said that the price increases are a response to rising food and beverage costs, as well as higher wages.
11. Burger King
As at Domino's, you may have to get used to receiving less while paying the same amount for at least one item at Burger King.
The fast-food chain recently reduced the number of chicken nuggets in one menu deal from 10 to eight.
And the changes don't stop there. According to Business Insider:
"Burger King is eliminating paper coupons and making around a dozen changes to U.S. menus to increase profits, the chain said, including raising prices on nuggets, french fries, and bacon cheeseburgers."
Restaurants that raised prices in 2021
If the COVID-19 pandemic has kept you out of restaurants for a while, prepare for an unpleasant surprise. In addition to some of the restaurants mentioned earlier in this story, a slew of chains hiked prices in 2021.
To find out more about the bad news, check out "7 Major Restaurant Chains That Are Hiking Prices."