It's been called the "retail apocalypse." Seems like every day there's another news article about a once-thriving business closing multiple locations in an attempt to stay alive. (Hint: That doesn't always work.)
Some of these companies are victims of the e-commerce age: Why drive somewhere and maybe pay to park when you can stay home and order online instead? Or they're facing too much competition from similar retailers chasing the same consumer dollars.
Still others fall prey to changing tastes: What worked for the baby boomers, or even for Gen X, won't appeal to millennials and Generation Z.
Some of the companies currently circling the drain may surprise you — including a brand that defines soup and a popular social media service.
1. Sears
Once one of the major retailers in the United States ("Sears: Where America Shops"), the company has closed 529 stores since 2015, according to CNN.
Sears hasn't posted a profit since 2010; since then, it has lost more than $10 billion. In March 2017, the company released a statement saying there was "substantial doubt" about its chances of survival.
Bonus bad: Sears Holdings also owns Kmart. Hoo boy.
2. Toys R Us
The nation's first toy superstore is reorganizing after filing for Chapter 11 bankruptcy protection in September 2017, reports Bloomberg. Toys R Us hasn't said how many locations it will close, but it has hired a company that evaluates stores for liquidation.
According to USA Today, analysts predict that as many as 183 stores will be shut down this year. Poor Geoffrey!
3. Payless ShoeSource
It hasn't been a walk in the park for this discount shoe store, which declared Chapter 11 bankruptcy in 2017. Some 673 stores were closed in an effort to keep the chain afloat, according to USA Today.
It faces the same issues other retailers do: lots of competition and fewer visitors to brick-and-mortar stores, especially those located in shopping malls.
4. Harley Davidson
This isn't your grandson's transportation. A survey reported by CNBC indicates that millennials seem to have little interest in motorcycles. Not good, given how old the baby boomers are getting.
Alliance Bernstein, a global asset management firm, predicts that motorcycle ridership will drop in 2017 and "stay in negative territory" for at least five years.
Perhaps the millennials' kids will want to roar around on hogs just to irritate their Lyft-hailing, fixed-gear-bike-riding parents. The question is whether Harley Davidson will be around to sell to them.
5. DineEquity
The parent company of Applebee's and IHOP is flailing about this year. Money & Career CheatSheet reports that DineEquity will close as many as 135 Applebee's locations and at least 20 IHOP restaurants in 2018.
Apparently fewer families are taking the kids out for Stuffed French Toast, and millennials are opting for fast-casual brands and local restaurants.
6. Rue21
This chain is still profitable, but it can't pay all its suppliers. The teen fashion house filed for Chapter 11 bankruptcy in May 2017, according to USA Today.
Like a handful of other retailers, Rue21 hopes this pre-emptive move will reduce potential losses. Among other things, Chapter 11 allows the breaking of leases on stores that are losing money — apparently an ongoing issue, since Rue21 announced before the filing that it plans to close as many as 400 of its 1,179 locations.
7. Vitamin World
Consumerist reports that high rents and dwindling mall traffic had a lot to do with this chain's struggles, but so did "significant supply chain and ingredient availability disruptions."
Until recently, Vitamin World had 334 stores in malls and outlet malls across the United States. In September, the company filed for Chapter 11.
At least 51 stores will close. Doesn't sound healthy to us.
8. Nine West
This shoe store has slowly, inexorably slid downward for years. Fewer people are shopping in malls — or in stores, for that matter — and with Nine West's high debt and leverage loads, it appears to be an unsustainable business.
According to Money & Career CheatSheet, the chain appeared on Fitch Ratings' list of potential retail bankruptcies in 2018. Not the kind of list you want your store to make.
9. Old Country Buffet
The all-you-can-eat restaurant has been closing locations without warning since spring 2016, according to Consumerist. Some of them were — you guessed it! — in shopping malls.
But that's not the only issue faced by parent company Ovation Brands, which has filed for bankruptcy protection three times since 2008. Another blow came in the form of a salmonella lawsuit; Ovation paid out more than $11 million to a Nebraska customer.
10. Gymboree
This kid-centric clothier had quit paying its bills and by mid-2017 was filing for bankruptcy protection, for the usual reasons: less-busy malls, high rents and competition (companies like BabyGap and Children's Place).
Apparently there aren't enough doting parents and grandparents to keep Gymboree in the black. The company will close as many as 450 of its 1,281 stores as part of the Chapter 11 reorganization, according to USA Today.
11. BlackBerry
Once upon a time, the BlackBerry really was all that. People were so addicted to the device that they referred to it as "CrackBerry."
Times change — and BlackBerry didn't. It failed to react as other companies introduced amazing smartphones. By the middle of 2016, BlackBerry had less than 1 percent of the smartphone market worldwide, according to The Globe and Mail.
12. True Religion
In July 2017, this pricey clothing place filed for Chapter 11 protection. (Noticing a pattern here?)
Founded in 2002 in Southern California, True Religion Apparel tripled in size between 2007 and 2013, according to a Los Angeles Times report. Then sales slowed as consumers increasingly went online to shop. By the time the company filed for bankruptcy, 20 of its 140 stores had already been closed.
A snarky person might point out that if True Religion jeans hadn't cost as much as $335 per pair, the company wouldn't be in so much trouble.
13. Campbell's Soup
Millennials are not fans of those red-and-white cans. A study from the Morning Consult agency showed that Campbell's isn't in the top 25 brands recognized favorably by U.S. consumers ages 18 to 34.
Baby boomers still like it a lot. But the study suggests that ingredients like high fructose corn syrup and other processed items are a big turnoff to younger people. In fact, sales of all canned soup are on the decline.
Campbell's is fighting back with varieties like its "Well Yes!" line of soups, made with ingredients like red quinoa, kale and butternut squash. But it may be too little, too late.
14. Claire's
This mall staple is the kind of place where girls can get things like floral headbands and "best friends" lockets.
Or the place to get their first pairs of small gold hoop earrings: CheatSheet reports that the jewelry chain claims to have pierced 94 million ears. But it, too, is a victim of declining mall traffic and may not survive the year.
15. Bloomin' Brands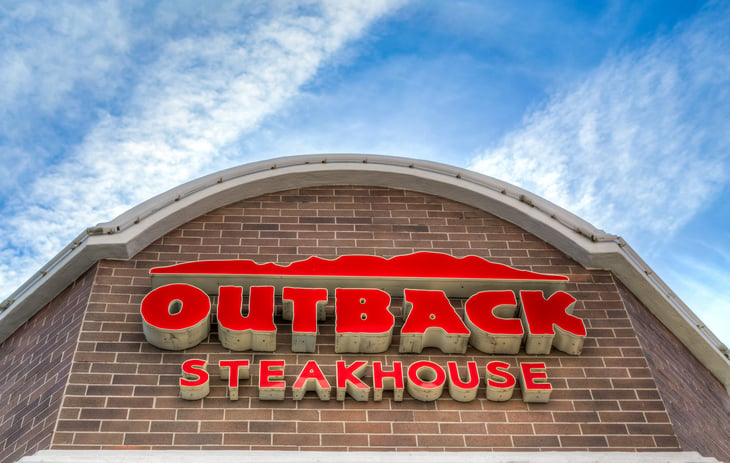 The company that owns Outback Steakhouse, Carrabba's Italian Grill and Bonefish Grill reported overall profit of $41.7 million in 2016, according to Business Insider. Not bad, right? Except that the year before it made $127.3 million.
The proliferation of fast-casual chain restaurants and delivery services have hurt Bloomin' Brands. Despite renovations and an emphasis on its own delivery options, the company is struggling. It closed 43 restaurants in 2017.
16. Macy's
What's gone wrong for this once-grand brand? Just about everything: decreased mall traffic, tons of competition (both off- and online), high overhead (especially labor) and the changing shopping habits of consumers (department stores are so last century).
Bloomberg reports that Macy's plans to close 11 stores, including locations in Cincinnati, Miami and San Francisco. If the store goes under entirely, Thanksgiving in New York will never be the same.
17. Tiffany & Co.
The idea has long been that men should surprise the women in their lives with those little blue boxes of bling. That may have worked for the baby boomers, but the jewelry market is increasingly made up of women who buy their own baubles, according to CheatSheet.
Now we have Lady Gaga suggesting that women should indeed buy themselves jewelry "and put it on with dignity." But her association with the venerable jewelry chain may not be enough to pull the brand into the 21st century.
18. American Apparel
This made-in-America brand served up "ethically made, sweatshop-free" clothes and accessories beginning in the late 1990s. Its racy — some would say exploitive — ads got a lot of attention, too, featuring semi-nude models who often looked very, very young.
As of 2007, American Apparel was worth $1 billion, CheatSheet reports. The recession of 2008 took a toll, as did a clutch of sexual harassment charges against founder Dov Charney. The company hasn't posted a profit since 2009 and has filed for bankruptcy twice.
In 2017 a Canadian company purchased American Apparel's intellectual property along with some of its equipment. While the company's name may (or may not) survive 2018, the last 110 stores in the U.S. will not.
19. Quiznos
Remember the "Mmm, mmm, mmm, mmm…toasty" ad campaign for this sandwich shop? These days it's more like "uh-oh…dicey."
Once the fastest-growing restaurant chain in the country, the brand has fallen on hard times thanks to stiff competition from sandwich stores like Firehouse Subs and Jimmy John's.
Back in 2007, Quiznos operated 5,000 stores in the United States. Now it has 690 locations, according to CheatSheet.
20. Aeropostale
Once a thriving teen-centric apparel brand, the chain closed 154 stores in mid-2016 and filed for Chapter 11 bankruptcy, according to CheatSheet.
Why the lackluster sales? Competition, of course. So-called "fast fashion" outlets like H&M and Forever 21, with low prices and a constant stream of new styles, have lured fickle shoppers away from Aeropostale.
21. Crocs
Rumors of financial trouble have swirled around the plastic-shoe company since 2009, according to Entrepreneur. This time, though, the prognosis is grim: The company has stated it will close up to 160 stores by the end of this year.
Not only do knock-offs abound, the original Crocs are so sturdy they last for just-about-ever. Planned obsolescence isn't part of the brand.
22. Twitter
Whaaat? However will the president communicate without Twitter?
But seriously: Twitter no longer has the social media field to itself. Instagram, Snapchat and other Johnny-come-latelies are siphoning off Twitter habitués.
In fact, Twitter tried to put itself up for sale in 2016, but prospective buyers backed away, CheatSheet reports. Users are dropping off, and sales growth is way down.
Bloomberg reports that the company has specific limits to its growth potential and brings with it some troubling issues including abuse and harassment. Twitter has announced minor staff cuts and more work towards profitability. Some analysts feel its stock value is overvalued even though the price has dropped. #staytuned
Do you frequent these companies or buy these brands? Share your thoughts in comments below or on our Facebook page.