Summer is here — it's official now — which means that retailers want to sell you things for fall, or back-to-school, or Christmas … or whatever. But the good news is that there are sales on awesome things that we can use now whether we're enjoying summer in our own backyard, taking a family road trip or jetting off to an exotic locale.
We've created a collection of some quality summer products — many now marked down — to make summer more fun, comfortable and delightful.
If you're about to enjoy a staycation, your yard is your kingdom. We'll start there, with things to make it a fabulous place to entertain, relax and cook. (Prices posted here are current as of publication date.)
These portable Bluetooth speakers are water-resistant and rechargeable. Their ambient LED light provides a little extra atmosphere for a raucous beach party or a romantic dinner on the porch.
Price: $39.95 per speaker
When you're entertaining outdoors, or just hanging around the backyard with family, getting bitten by bugs is a bummer. These citronella candles have a burn time of 10 hours, keeping the pesky critters at bay all evening and contributing to a festive atmosphere.
Price: $7 for a set of three
These make so much sense. Because of the tines, you can get more food on these skewers than the traditional ones and, since they are flat, you can just flip the skewer on the grill, making it easier to get your kabob evenly cooked.
Price: $16.95 for a pair
Pillows always make a space more inviting — and these outdoor cushions are deeply discounted. I love this orange, but there several other colors at this price point that may work for you — and loads more affordable options to choose from at this point in the season.
Price: $9.99 each
This insulated stainless steel tumbler keeps your cocktail cold or your coffee hot while you enjoy a day on the boat or a nap by the pool. The 12-ounce container is unbreakable with a BPA-free lid and comes in an array of colors.
Price: $12.95 each
These tea light candle holders can be used to decorate an elegant summer dinner spread, but they would serve just as nicely at a picnic table — or even hanging from above. Lots of ambiance for just a few dollars.
Price: $8.94 for a set of six
An umbrella that tilts to follow the sun is a tried-and-true summer solution. This one from Walmart, which has a 9-foot diameter, gets 4.5 stars with 490 reviews. As of this writing, it is available at this great price in four fun colors.
Price: $44.03
This cheerful collection is perfect for elegant outdoor dining. Desert-themed pieces are super affordable and made of melamine or acrylic so you don't need to worry about breakage.
Price: Depends on your selection (for example, $7.96 for a dinner plate, $8.94 for six short glasses)
Lovely mood lighting that doesn't damage the environment — classy! These solar lights are cheap and recharge themselves with sunlight. They are a good deal right now, and there's no need to dig around for batteries while guests are awaiting their drinks.
Price: $37.99 per pair
Instead of packing big, heavy pots for your glamping trip or backwoods adventure, bring this lightweight collapsible pot. This is so cool! "The Teflon surface folds and snaps together for campsite cooking, eating, and easy cleaning," the maker says. You can use it as a pot or collapse it into a flat surface to create a frying pan. (Not kidding. Check out the video on The Grommet.)
Price: Various sizes, starting at $29.95
This stunning 6-foot diameter cotton medallion blanket is perfect for the beach, a festival, a picnic or, for that matter, to toss on a bed for decoration. And it's marked way down.
Price: $19.99
This is the perfect vessel for ice and beverages at your summer wedding reception or picnic. This super-affordable galvanized metal tub also makes a great garden planter.
Price: $16.99
You just cannot deny that bubbles are an essential element of summer — like fireworks and hotdogs. Well, this gizmo lets you make bubbles on a massive scale. So awesome!
Price: $14.95 (Note: Bigger kits are available for a bit more.)
Okay, full disclosure: I don't have a dog of my own. But if I did, I would at least try to get him to hang out at the pool with me on this awesome made-for-canine lounger. This one comes with a puncture-free guarantee from dog claws. You must admit: That's adorable, and it looks like a great way to stay cool.
Price: $45.98
This aluminum carabiner not only holds up to 132 pounds but also contains a charger that can deliver two full charges — over 11 hours of video time or 10 hours of talk time, according to the maker. A great multifunctional item that's light enough to take hiking or throw into your carry-on bag for a flight.
Price: $39.95
This monster 36-inch flying disc is light, easy to throw and fun for all ages — at the beach or in the backyard. When done, it can be folded into a storage bag that's included. And the price is easy to love too.
Price: $16.91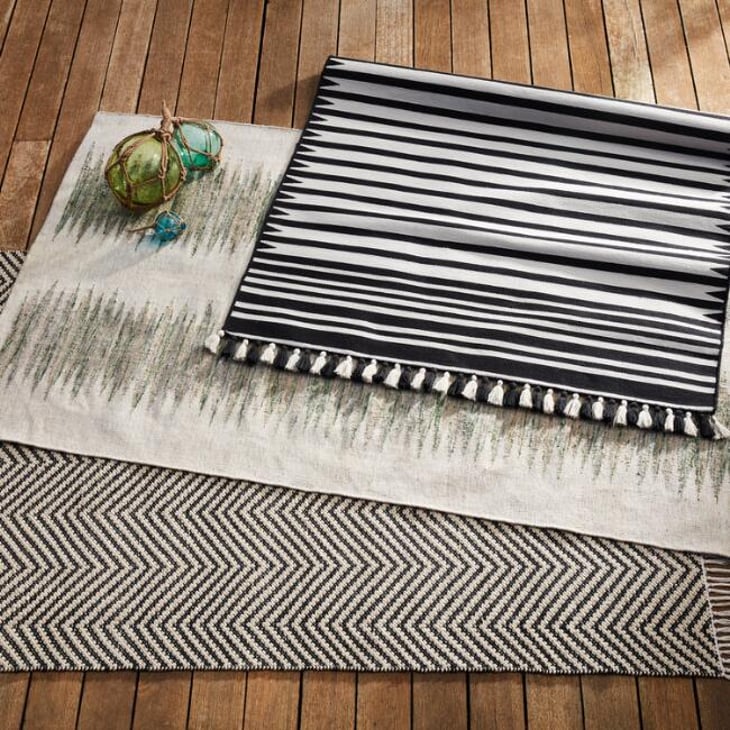 This outdoor rug can be used to cover up a weathered deck or to dress up an outdoor dining area. Handwoven from recycled plastic bottles, it's nice on the eyes, the environment and bare feet — and now it's pretty easy on the budget, too.
Price: $149.99 and up, depending on size
Is your new grad jetting off to Southeast Asia, with stops in sophisticated cities as well as plans to visit hill tribes, or perhaps just hitting the gym a lot this summer? Here's a versatile bag that suits a variety of situations. It easily converts from "everyday" size to "weekend" or "vacation" size, as needed. A great addition to anyone's luggage options.
Price: $149
This compact kit for straightening hair and fighting frizz has adapters and dual voltage charging to ensure you get the look you want anywhere around the globe. Heats up as high as 430 degrees Fahrenheit.
Price: $200
What treasures have you found for your summer enjoyment? Share with us in comments below or on our Facebook page.